Larvotto district. Beaches and extension into the sea of the Principality of Monaco
Panoramic views and giant photos visible on three grades of enlargement
© Dr Giuseppe Mazza
The reproduction even partial of the photos without the author's written permission is forbidden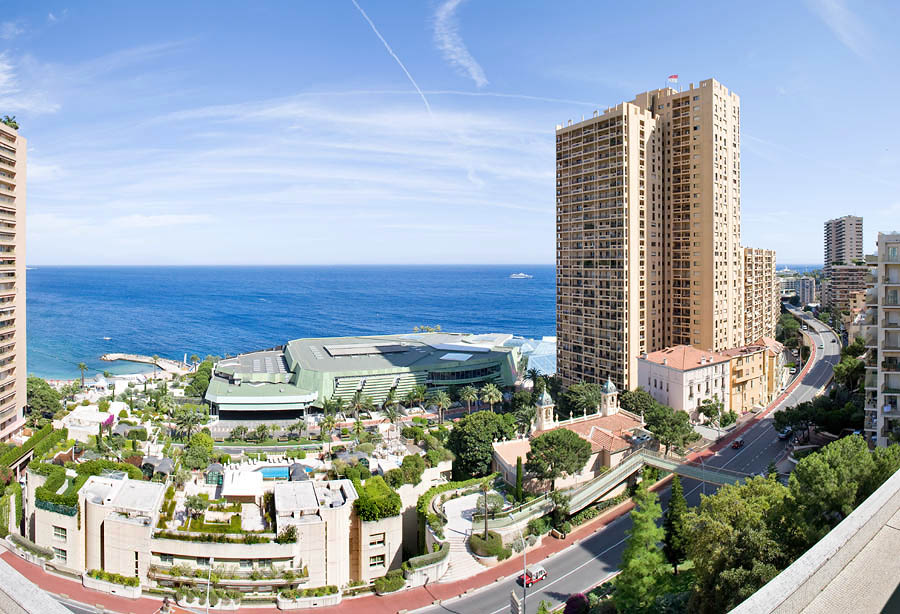 Monte Carlo: Boulevard du Larvotto, sky-scrapers and the Grimaldi Forum

Monte Carlo: the Larvotto sea promenade, the Fairmont Hôtel with the Casino and the Nibox, and a cruise vessel alongside the floating berth of the Port Hercule.

The Larvotto seaside promenade. Some tourists are comparing the size of their feet with those impressed on the ground of the "Champions Promenade".

The Larvotto coast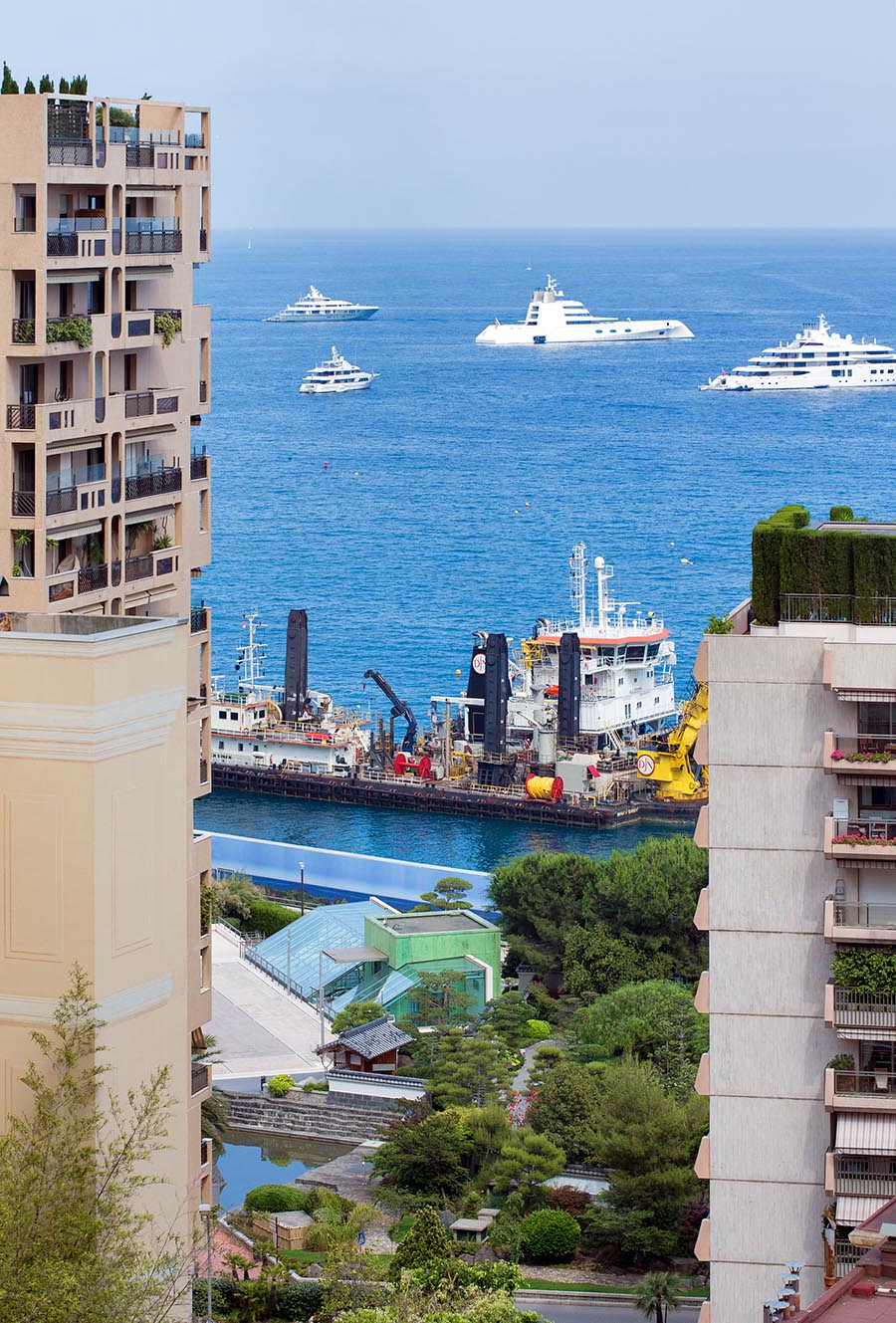 Monaco: expansion works on the sea at Larvotto with noise barrier fence. Green spaces, roof gardens and yachts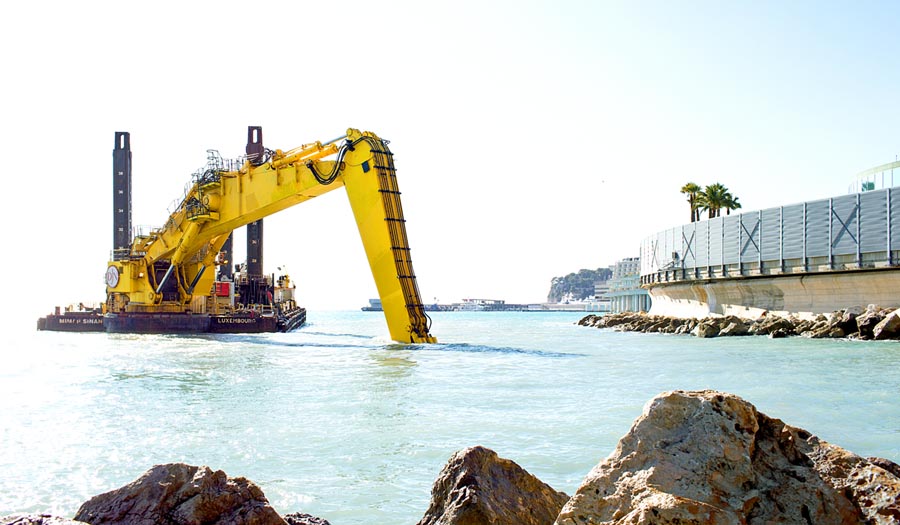 The cleaning operations have begun after the drills in the first months of 2018. The mud is taken off without polluting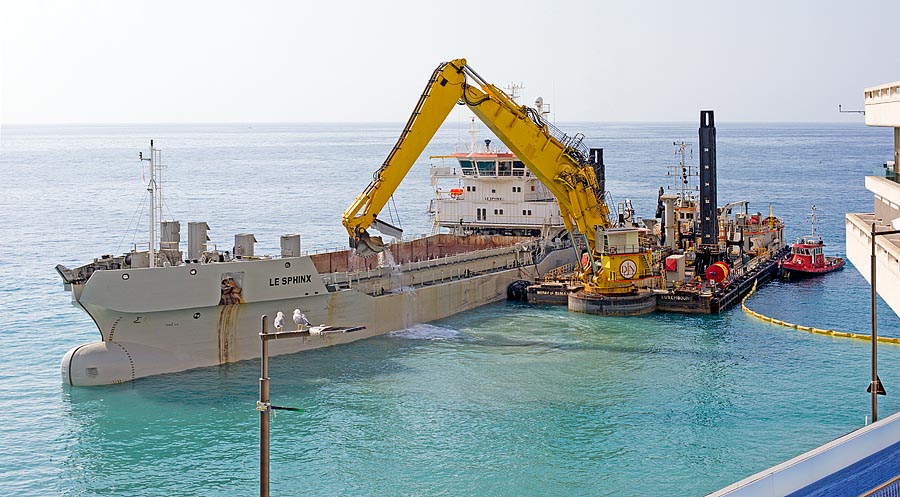 Under the watchful and bewildered eye of the seagulls, the bottom is cleaned up to the rock to create a solid platform in cement where to sink the giant caissons that will surround, consolidating it, the extension into the sea.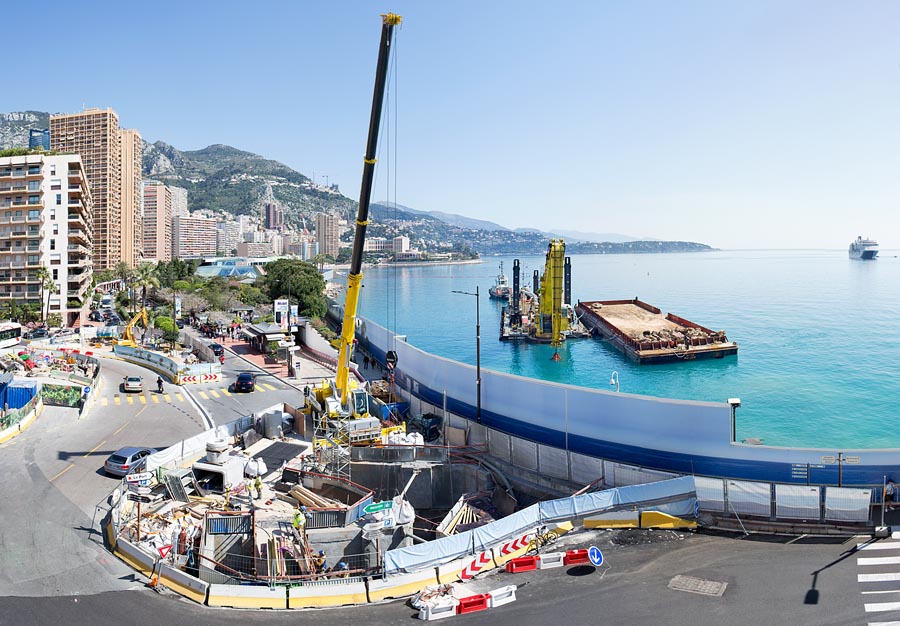 In parallel, along the coastline, a parking is built with underground connections

In late July the first of 18 huge floating caissons, arrives, they are 26 m tall and weigh 10.000 t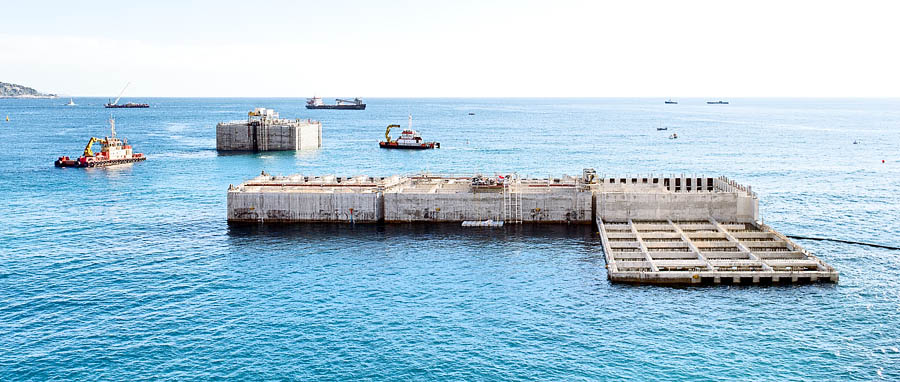 The caissons are sunk one next to the other delimiting the filling area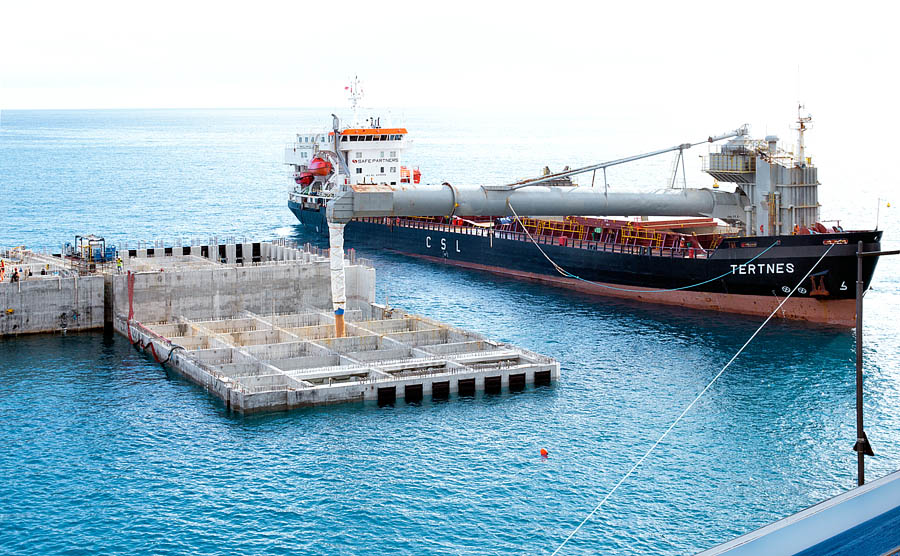 Full of gravel, they weigh 22.000 t and create a solid belt of reinforced concrete

In April 2019 the right side is already closed to the sea and the bulldozers are at work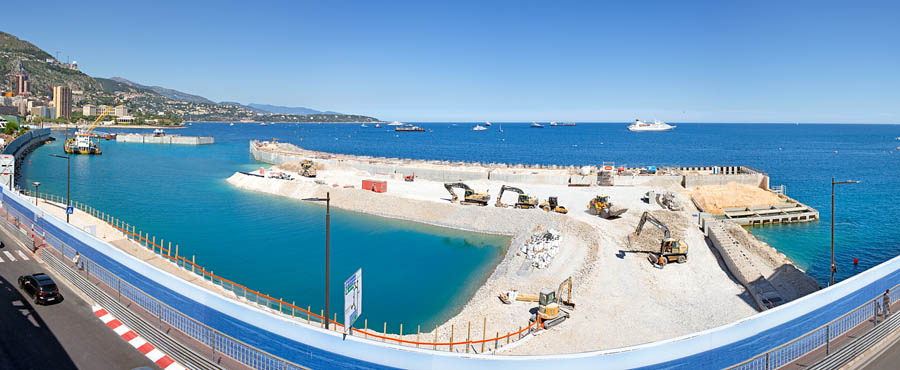 In June 2019 the zone torn to the sea has considerably increased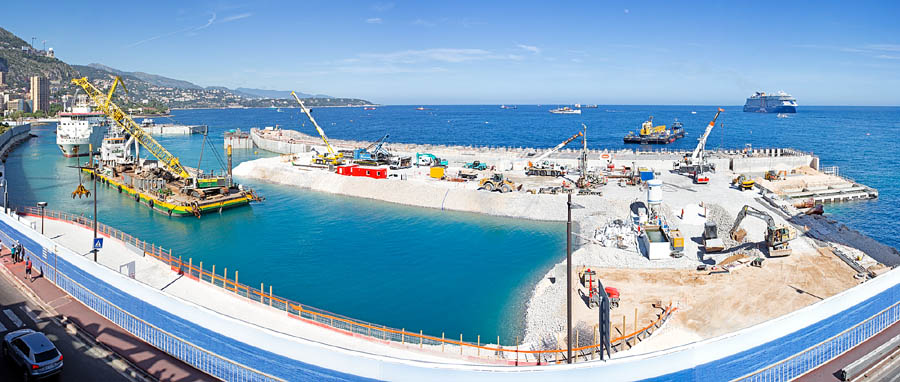 The building site now is reached also by land with a descent for vehicles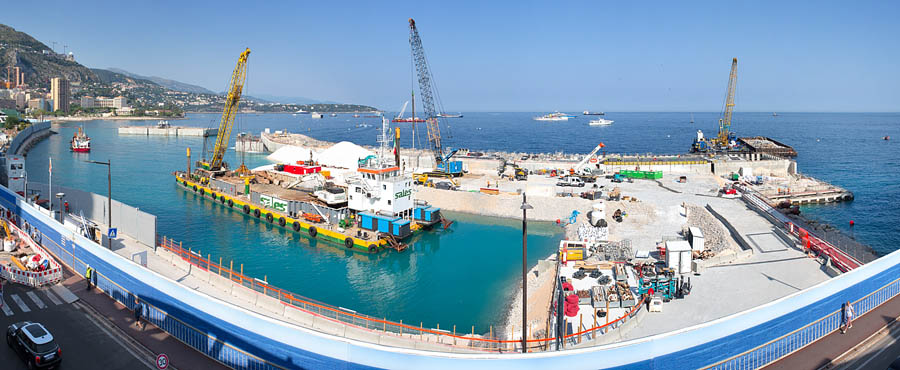 The first cranes appear while the bottoms are settled for the future filling

By the end of August 2019 also the left side is closed to the sea and a giant crane rail appears

Two ships with long booms passing over the belt, alternate for filling up unabatedly the basin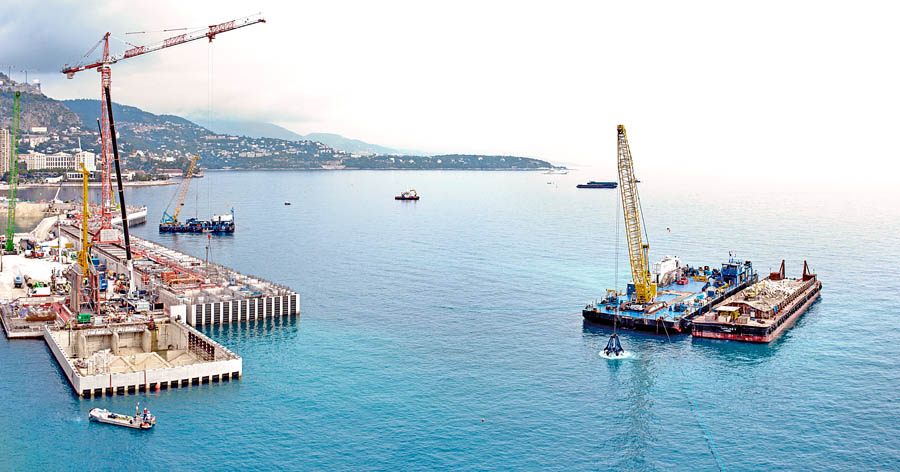 Outside, the consolidating boulders are put in position one by one, under the control of divers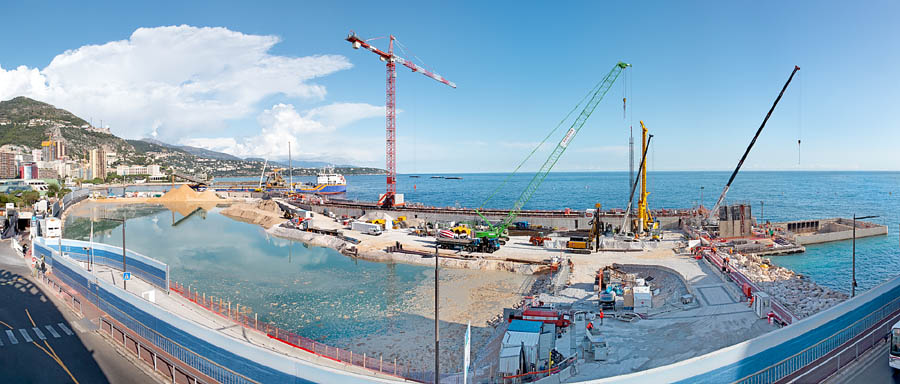 The big rail crane works tirelessly, sided by an impressive mobile crane on track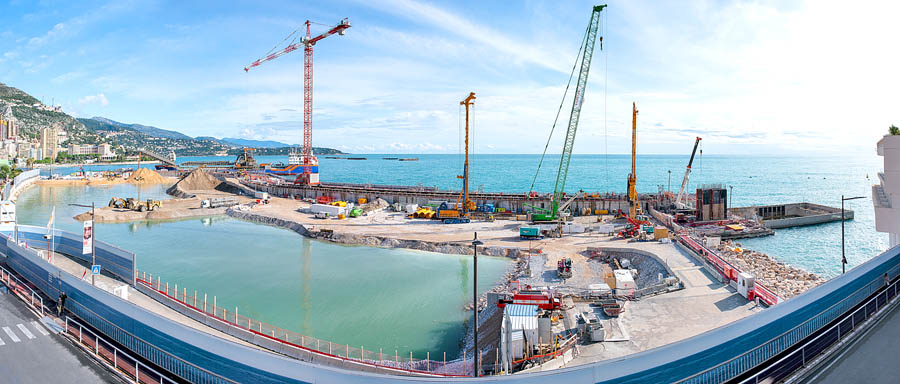 The bulldozers come and go from the heaps of gravel and another tongue of earth appears at the centre of the basin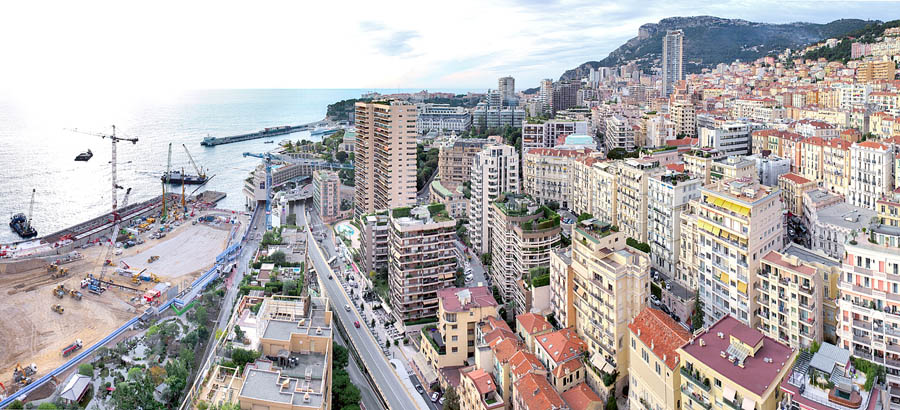 By mid December the filling up is over: the area of the Principality of Monaco has increased of six hectares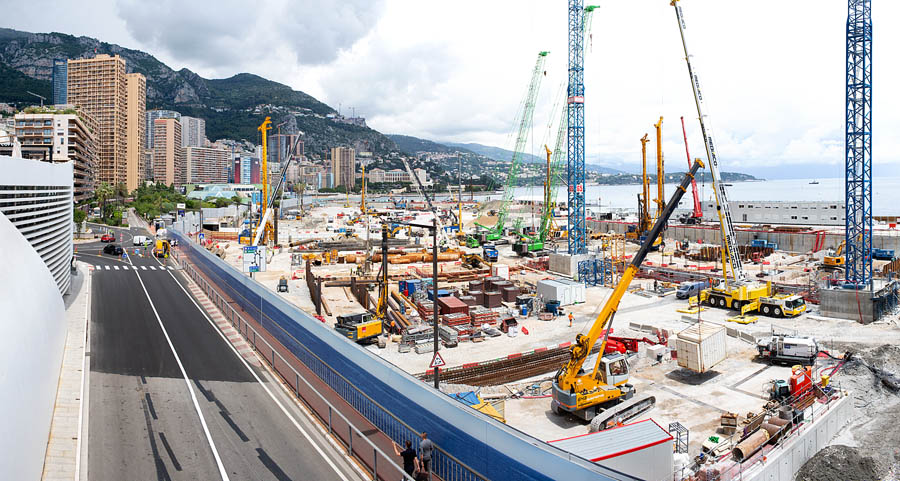 Five months later the building is in full activity: the room for moving is almost absent

Night view of the building site from the Casino terraces in late October 2020

Sea extension and architectural changes in the Principality on June 18th, 2021. Casino Square's new look. To note various buildings in construction and elevations. Beausoleil red roofs mark the boundary with France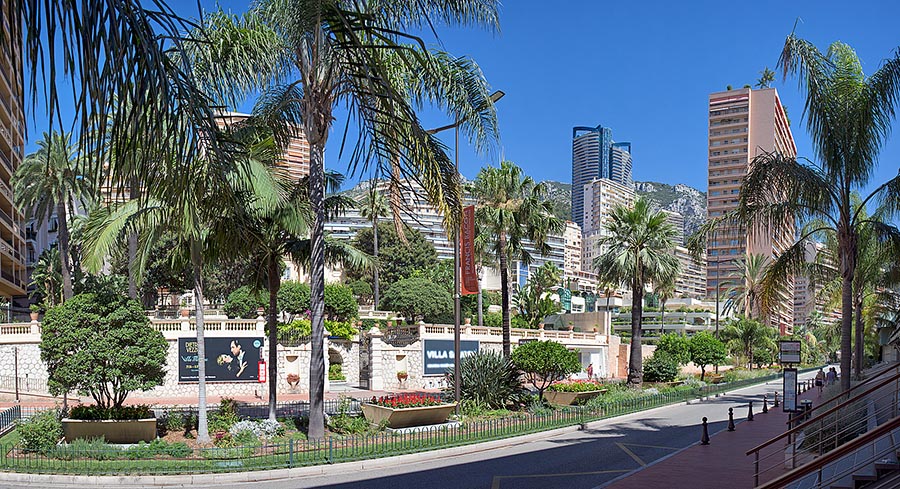 Avenue Princesse Grace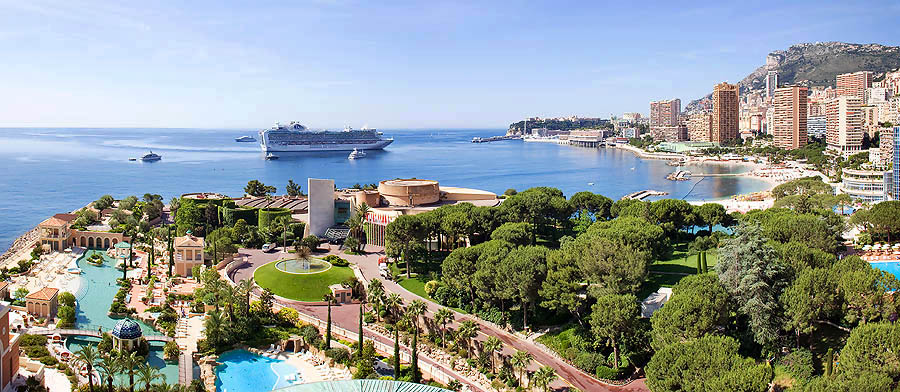 The Sporting and the Larvotto, seen from the Monte Carlo Bay Hotel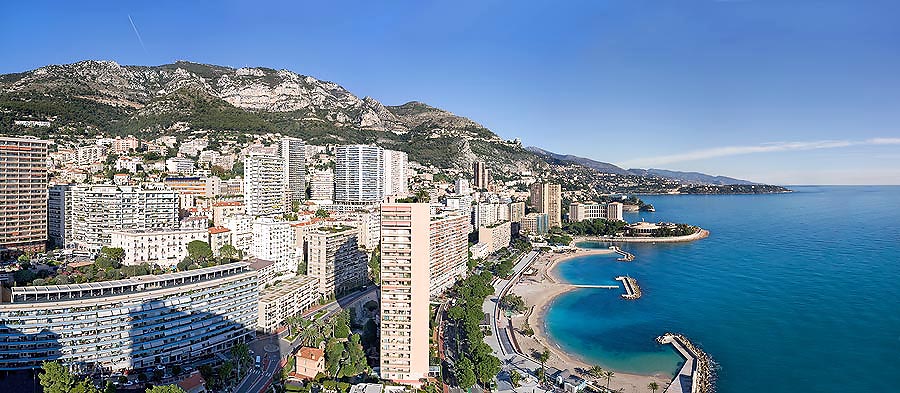 Monaco: the Larvotto ward

Descent to Larvotto Beach

Restaurants along the beach of Larvotto
Beach life at Larvotto with background of skyscrapers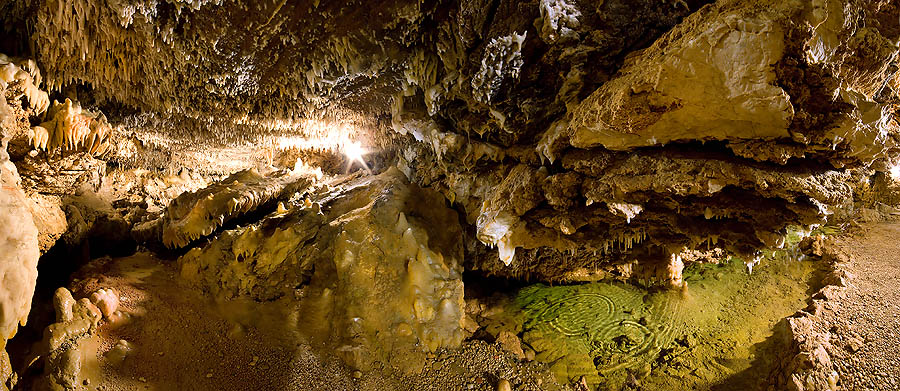 Larvotto grotto and Vaulabelle source. Pluvial water, which falls down from the stalactites, forms an underground pond, just over the sea level and is intercepted by Monaco aqueduct before getting mixed with brackish water.