Family : Rosaceae
Class : Modern shrubby rose

Text and pictures © Giuseppe Mazza

English translation by Mario Beltramini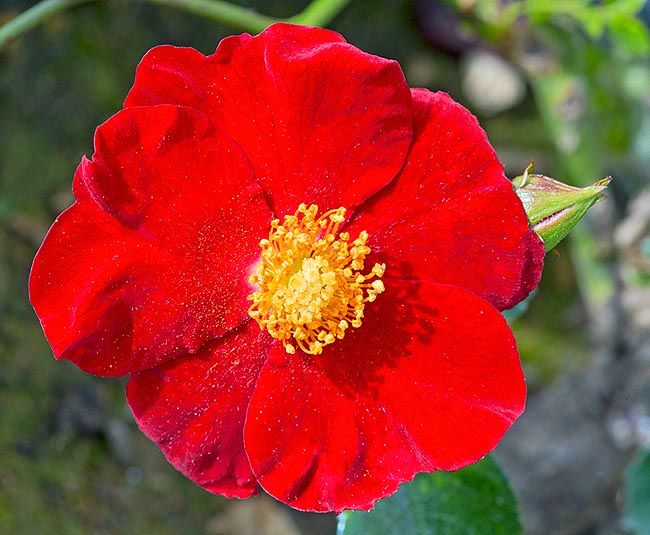 Created at Gutersloh in Germany in 1998 by Reinhard Noack, 'Alcantara' is a landscape shrub rose, known also as 'Flower Carpet Red Velvet', 'Red Velvet', 'Velvet Flower Carpet' and 'Vesuvia'. All names do refer to its flaming velvety flowers.
It is not an individualist rose, but a rose singing chorally, with tiny flowers hardly reaching the 4 cm, with 7-8 carmine red petals, well arranged, in pleasant contrast with the showy golden stamens. They open one close to the other, unassuming, to create joyful spots of colour in the garden until late autumn.
Here the fragrance is not necessary: important is the remontancy and a healthy shrub, that in this case forms compact tufts of 40-70 cm with glossy dark green leaves resistant to drought, cold and diseases.
Excellent groundcover plant and for borders.
Variety denomination : NOAre
Parentage :
'Ricarda' × seedling of 'Flower Carpet'

→ History of the rose : from the Wild Roses towards a perfect rose.
→ To appreciate the biodiversity of roses, please click here.