Family : Rosaceae
Class : Miniature Rose

Text and pictures © Giuseppe Mazza

English translation by Mario Beltramini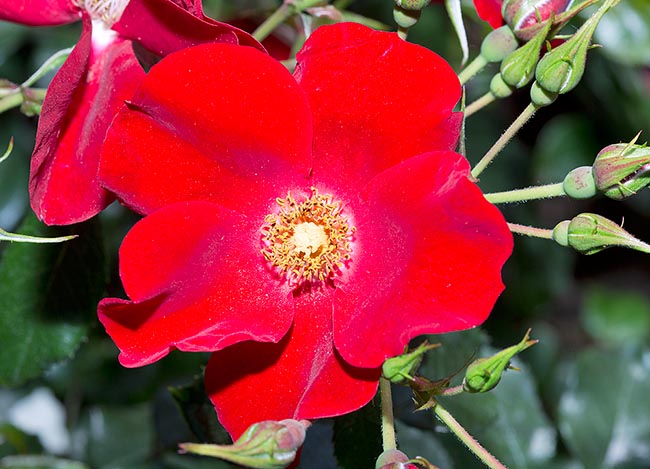 Miniature modern shrub, 'Apache' is born in Germany in 2009 in Kordes' nurseries.
The flowers, growing one close to the other arranged in cup, do not have any perfume, do not exceed the 7 cm of diametre, count only 4-8 petals uniformly red, but have a rare virtue, recognized in several contests: the stability of the colour with the time.
The pH in the petals does not change and the buyer of this groundcover rose looks rightly for a spot of constant blood red colour, that doesn't fade over time, from the opening of the flower up to the fall of the petals.
It is not a trivial matter, landscapely speaking, to which one must add a continuous blooming in the vegetative period and an exceptional resistance of the dense dark green foliage to the mold and mildew that attack the roses.
Variety denomination : KORcatemp
Awards :
2009 - Monza Journalists' Choice - Geneva Certificate of Merit - Baden-Baden Golden Rose - Baden-Baden Gold Medal
2010 - Madrid Certificate of Merit - Geneva Certificate of Merit - Bagatelle Certificat de Mérite - Baden b. Wien/Vienna 1st Prize
2011 - La Tacita Gold Groundcover
2012 - Belfast Best Shrub Rose
2013 - Hradec Králové First Prize - Australia: The Irwin Trophy - Australia: Bronze Medal

→ History of the rose : from the Wild Roses towards a perfect rose.
→ To appreciate the biodiversity of roses, please click here.