Family : Rosaceae
Class : Hybrid Tea

Text and pictures © Giuseppe Mazza

English translation by Mario Beltramini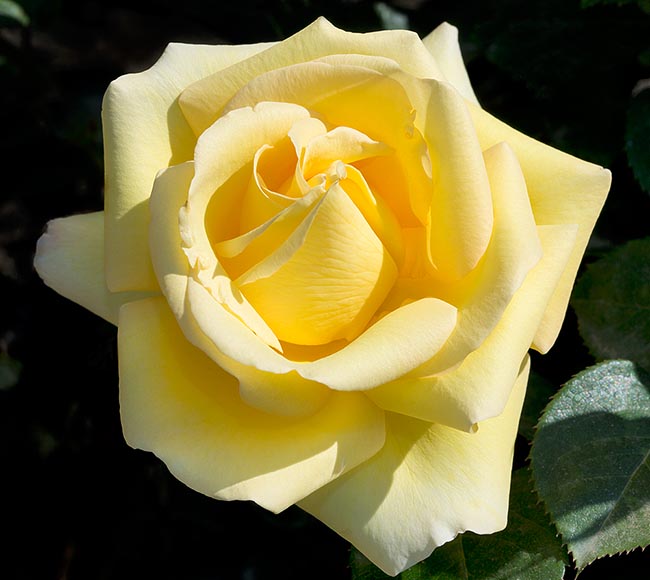 Hybrid Tea created in Germany by Jens Krüger in 2004 and diffused by Tantau in 2014 with the name of 'Avec Amour'.
This battle trade name has nothing to do, as one might think, with a lover's feeling, but simply retraces the motto of a famous chef, Léa Linster, referred to her cuisine. She was the first woman in the world to win in 1989 the Bocuse d'Or, prestigious international culinary contest.
Medium-sized shrub, compact, with glossy foliage, 70-100 cm tall and about 60 cm broad, very resistant to the diseases.
The perfumed flowers, with petals arranged in cup, may be 10 cm tall. Of a medium yellow colour, tending to the lemon, they resist well to the showers and give light to the interiors as cut flowers.
Variety denomination : TAN04341
Awards :
2011 - Geneva Silver Medal
2012 - RNRS Gold Medal - The Hague Gold Medal
2015 - Belfast Best Large Flowered Rose / Best Hybrid Tea - Belfast Gold Medal - Hradec Králové Most Beautiful Bedding Rose - Hradec Králové Ladies' Most Beautiful Large Flowered Rose - Kortrijk Courtrai Silver Medal

→ History of the rose : from the Wild Roses towards a perfect rose.
→ To appreciate the biodiversity of roses, please click here.