Family : Rosaceae
Class : Modern shrubby rose - Grandiflora

Text and pictures © Giuseppe Mazza

English translation by Mario Beltramini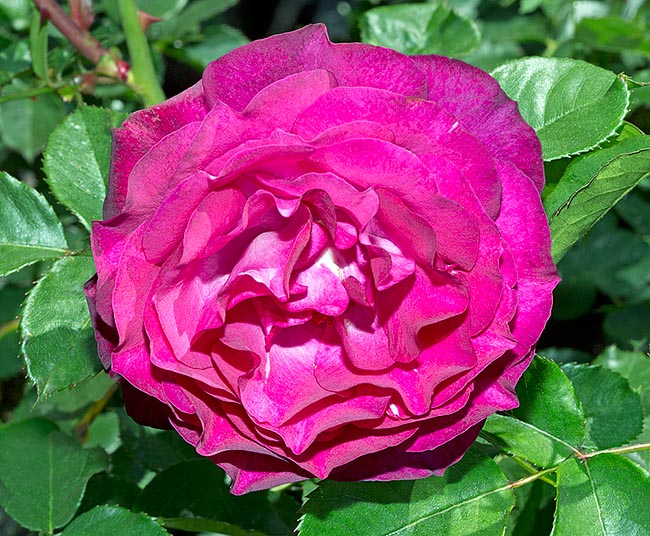 Modern shrub rose with great flower created in USA by Tom Carruth in 2004 and put on the market in 2006 with the name of 'Wild Blue Yonder', to which was later added 'Blue Eden'.
Thick and sturdy shrub that especially develops vertically reaching the 120-150 cm. Big semi-glossy dark green leaves.
The flowers, while being of considerable size around the 8 cm, appear in large clusters, somewhat like the Floribundas. They are double, with 17-25 petals of violaceous mauve colour with more or less red borders that gets through, while blossoming, various shades. As we usually note for the bluish roses, it has an intense spicy perfume.
Big spots of colour in the garden throughout the vegetative season.
Variety denomination : WEKisosblip
Parentage :
Seed : ('International Herald Tribune' × ibrido di Rosa soulieana) × ('Sweet Chariot' × 'Blue Nile')
Pollen : 'Blueberry Hill' × 'Stephens' Big Purple'
Awards :
2006 - All-America Rose Selection
2010 - Fully-Open Hybrid Tea or Grandiflora Bloom - Portland's Best Rose
2013 - ARS James Alexander Gamble Rose Fragrance Award.

→ History of the rose : from the Wild Roses towards a perfect rose.
→ To appreciate the biodiversity of roses, please click here.