Family : Rosaceae
Class : Floribunda

Text and pictures © Giuseppe Mazza

English translation by Ignacio Barrionuevo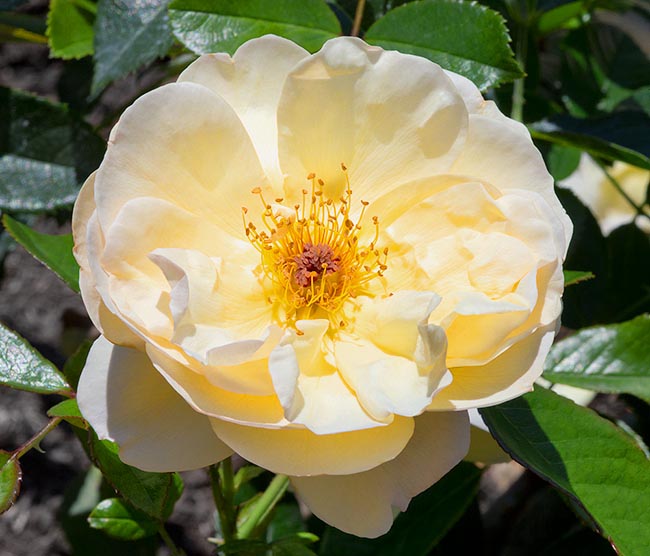 For some a Floribunda, for others a hybrid of Rosa rugosa or a Modern Shrub Rose, 'Canicule' is in fact a successful Landscape Groundcover rose.
Created in Germany by Hans Jürgen Evers in 1994, and distributed after 2004 by Tantau. It is also known as 'Broadlands', 'Crème brûlèe', 'Golden Touch', 'Sonnenschirm' and 'Ombrellone'.
The plant, with shiny leaves, is 50-90 cm tall and can broaden itself even a meter and a half with its long, flexible branches. The uncountable flowers are reunited in bundles and do not grow over the 7 cm in diameter. They are cup-shaped and show 25-33 petals of a cream yellow colour, lightly perfumed.
A plant that is resistant to warm temperatures and drought, which flowers repeatedly during the whole vegetative season.
Variety denomination : TANmirsch
Awards :
1995 - Royal National Rose Society : President's International Trophy (Great Britain)

→ History of the rose : from the Wild Roses towards a perfect rose.
→ To appreciate the biodiversity of roses, please click here.