Family : Rosaceae
Class : Modern Shrub Rose

Text and pictures © Giuseppe Mazza

English translation by Peter Thompson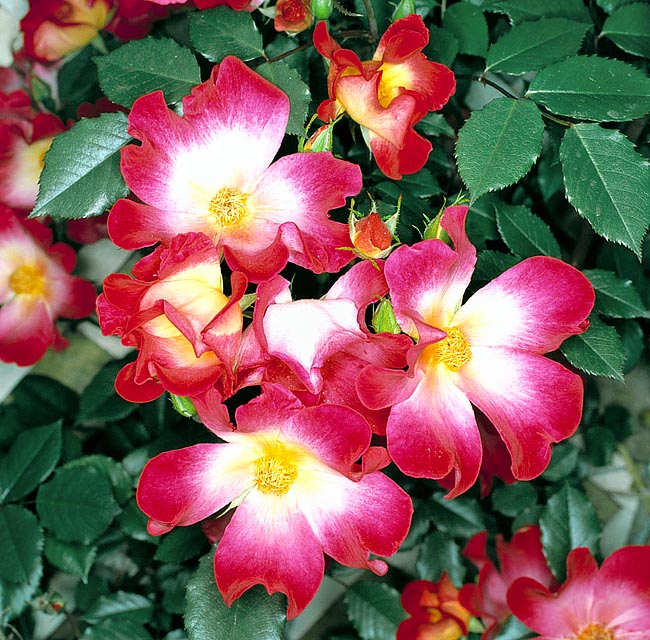 Floribunda created in France by Meilland in 1957.
It reaches up to 2 metres in height, and can therefore also be cultivated as a climber.
Single flowers, bright red, with the centre of the corolla in yellow, shading to cream.
Slight spicy perfume.
In 2015 has been inserted among the roses of the 'Hall of Fame', the most presigious of all times.
Variety denomination : MEImick
Parentage :
Seed : 'Independence' × 'Orange Triumph'
Pollen : 'Phyllis Bide'
Awards :
1957 - Bagatelle (Paris) : Certificat de Mérite
2000 - Birmingham Rose Society Spring Show : Classic Shrub Rose
1999 - Modern Shrub Rose : Bradenton-Sarasota Rose Society - South Carolina Rose Society - South Coast Rose Society
2000 - Modern Shrub Rose : Golden Isles Rose Society - Maryland Rose Society
2001 - Maryland Rose Society : Modern Shrub Rose
2001 - Shrub : Dixie Rose Club - Monocacy Rose Society

→ History of the rose : from the Wild Roses towards a perfect rose.
→ To appreciate the biodiversity of roses, please click here.