Family : Rosaceae
Class : Modern shrubby rose

Text and pictures © Giuseppe Mazza

English translation by Ignacio Barrionuevo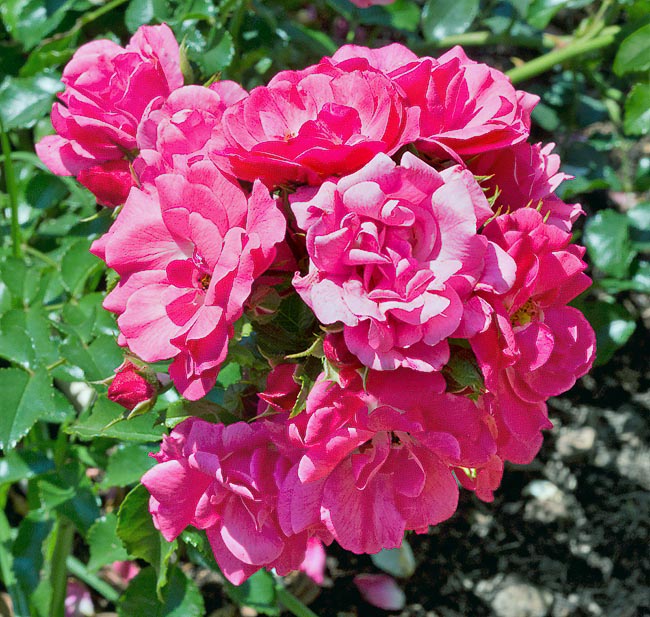 Do you want to colour your garden fuchsia?
Created in 1989 in Germany by Werner Noack, 'Emera' is the Landscape, Groundcover rose for you. It is also known by the unequivocal names of 'Blooming Carpet', 'Floral Carpet' and 'Pink Flower Carpet'.
This shrubs shows shiny, dark-green leaves, is 30-70 cm tall and can even grow 120 cm wide with its long curved branches, bent by the weight of the semi-double blooms, with around 15 fuchsia-coloured petals that give off a light fragrance.
Blooms repeatedly and generously during the whole vegetative period. It's a triploid variety, which means that carries 3 chromosomes of each kind instead of 2, but this doesn't mean any problem because in the successful roses world the reproduction is only carried out using cutting propagation.
Variety denomination : NOAtraum
Parentage :
'Immensee' × 'Amanda'
Awards :
1990 - The Hague Gold Medal - Royal National Rose Society: Trial Ground Certificate - Anerkannte Deutsche Rose Novelty Trials
1994 - Bagatelle Rose Trials: 1er Prix
1996 - Association des Journalistes du Jardin et de l'Horticulture : Prix de la Rose
1999 - Lake Superior Rose Society Show: Modern Shrub Rose - Rosexpo Montreal Show: Best Modern Shrub Rose Spray or Specimen
2007 - Bagatelle Rose Trials: 1er Prix
→ History of the rose : from the Wild Roses towards a perfect rose.
→ To appreciate the biodiversity of roses, please click here.