Family : Rosaceae
Class : Hybrid Tea

Text and pictures © Giuseppe Mazza

English translation by Mario Beltramini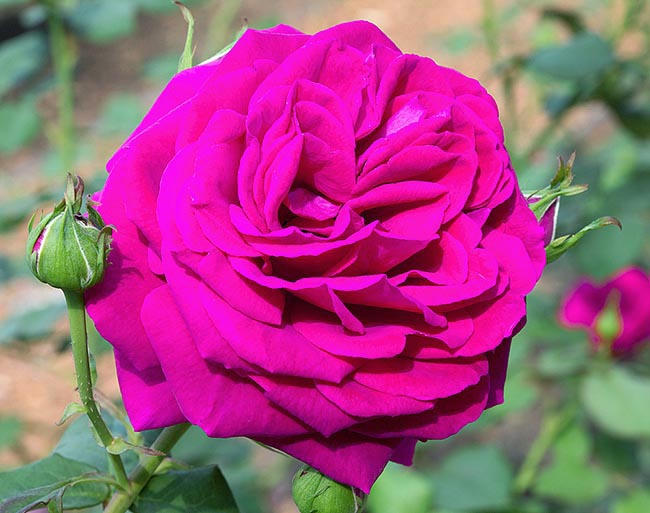 A thermometre rose. They had to invent it!
With 40 and more petals, the flowers of 'Gospel' are bordeaux when it's cold and violet when it's warm.
Created in Germany in 2002 by Hans Jürgen Evens and marketed by Tantau in 2012, this Hybrid Tea has won a lot of awards and is known also as Meier Tann Rüti-Rose' and 'Proper Job'.
Small shrub: 60-90 cm tall and 40-45 cm broad, with medium green and semi-glossy foliage.
The flowers, even more than 10 cm broad, single or in small clusters, are quartered, that is, extremely rich of petals very tight in quarters. Strong perfume with spicy notes.
Resistant to diseases and blooming during all the vegetative season with good restart at cut.
Variety denomination : TANlepsog
Awards :
2012 - Geneva Rose D'Or - Tokyo Bronze Medal
2013 - Barcelona : Asociacion Espanola de la Rosa Prize - Barcelona : Best Hybrid Tea or Grandiflora - Nagaoka : Best Rose Award - Nagaoka : Most Fragrant Rose - Nagaoka Gold Award - Rome Fragrance Award
2014 - Hradec Králové Honourable Mention

→ History of the rose : from the Wild Roses towards a perfect rose.
→ To appreciate the biodiversity of roses, please click here.