Family : Rosaceae
Class : Hybrid Tea

Text and pictures © Giuseppe Mazza

English translation by Mario Beltramini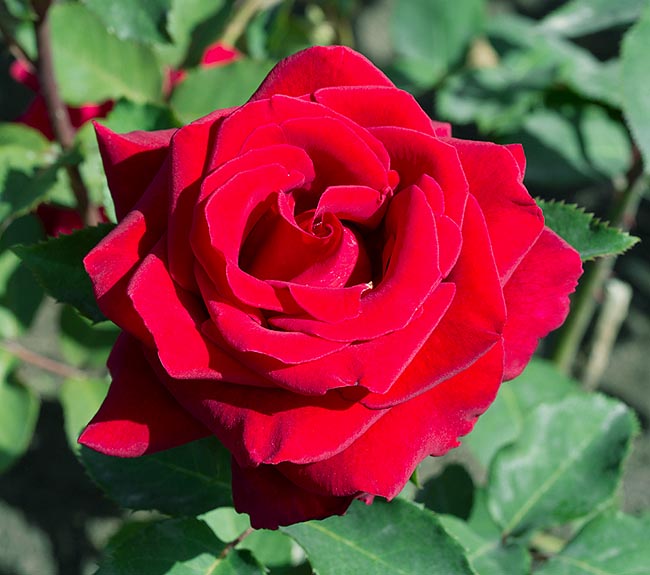 Created in France by Joseph Orard before 1998, 'Hacienda' is known also as 'Red 'n' Fragrant', 'Roxanne Pallett' and 'Firefighter', in memory of the heroic firefighters who intervened in Sept. 11 attacks in 2011.
Vigourous shrub, even 185 cm tall, with semi-glossy leaves, relatively small, purple red during the first phases of growth, then dark green.
Large flowers usually solitary, as befits the classical Hybrid Tea, that often surpass the 11 cm, with 40-45 velvety deep red petals with intense and inebriating scent. Fragrances of fruits, particularly raspberry, that evoke the old roses.
Remontant variety, creates luminous spots in the garden all over the vegetative season and is an excellent cut flower, also because it's a plant almost without prickles.
Variety denomination : ORAdal
Parentage :
'Lasting Love' × 'Hidalgo'
Awards :
1998 - Geneva Fragrance Award - Madrid Fragrance Award
2001 - AJJH, Prix de la Rose
2005 - Most Fragrant Hybrid Tea
2008 - Australia Bronze Medal

→ History of the rose : from the Wild Roses towards a perfect rose.
→ To appreciate the biodiversity of roses, please click here.