Family : Rosaceae
Class : Hybrid Tea


Text and pictures © Giuseppe Mazza

English translation by Mario Beltramini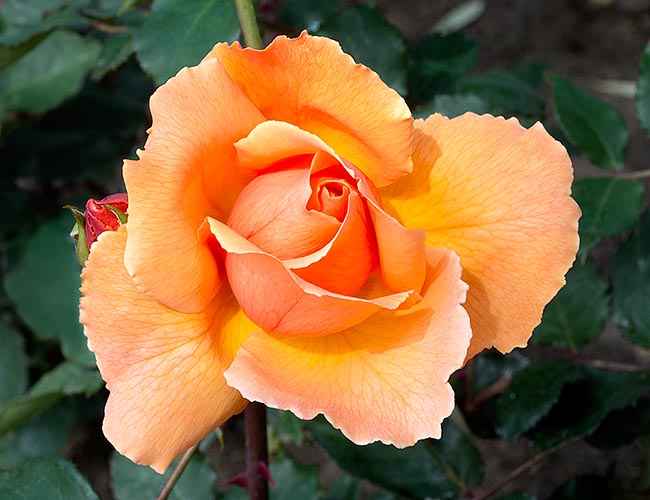 Classic Hybrid Tea, created in England in 1972 by Cants of Colchester.
Medium sized shrub, can form tufts of 120 cm of diametre, but often barely exceeds the 70 cm. Rigid posture and dark green, coriaceous and semiglossy foliage.
Large apricot flowers with frilly edges with pastel shades at the blooming completion. They have an intense and sweet fruit fragrance and grow mainly isolated, even if at times they appear arranged in small clusters. Rich blooming, repeated several times during the whole vegetative season.
Good duration in pot of the cut flowers.
Very popular and diffused variety, somewhat chilly, that gives its best in the warm Mediterranean gardens.
Parentage :
'Fragrant Cloud' × 'Dr A. J. Verhage'
Awards :
In 1994 has been inserted in the "Hall of Fame" group, the all time most prestigious roses.

→ History of the rose : from the Wild Roses towards a perfect rose.
→ To appreciate the biodiversity of roses, please click here.