Family : Rosaceae
Class : Modern shrubby rose

Text and pictures © Giuseppe Mazza

English translation by Ignacio Barrionuevo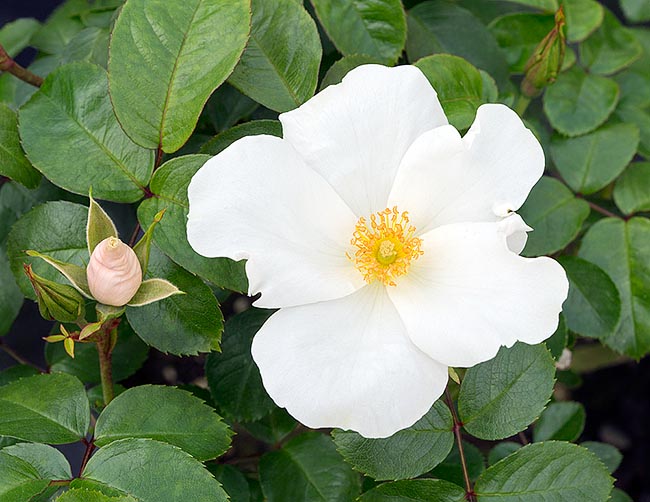 'Keros' was born as a Groundcover-Landscape variety in England, in 2011, by hand of Harkness, who dedicated it, because of the blinding whiteness of its flowers, to an island with peculiar whitewashed buildings in the Small Cyclades, in Greece, full of archaeological sites and a pirate refuge during the Middle Ages.
'Keros' is a shrub, 60-80 cm tall, with branches that bend under the weight of the clusters of white, single, small flowers. These rarely grow over 6 cm in diameter, with only 4-8 immaculate petals which show a light spicy scent and elegantly contrast with the yellow-golden colour of the stamens.
A bright spot for small gardens blooming almost non-stop during the whole vegetative period.
Variety denomination : HARpacific

→ History of the rose : from the Wild Roses towards a perfect rose.
→ To appreciate the biodiversity of roses, please click here.