Family : Rosaceae
Class : Hybrid Tea

Text and pictures © Giuseppe Mazza

English translation by Mario Beltramini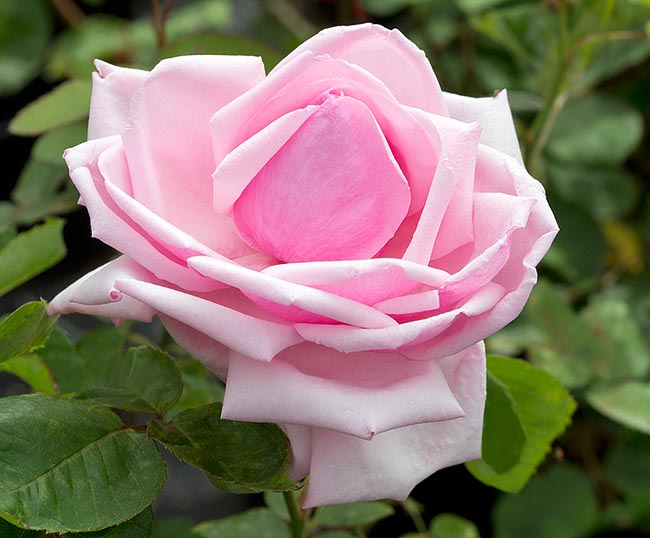 'La France' is not a rose like the others, it is a symbol, a landmark: for many the first hybrid of Tea in the world, watershed between the old and the modern roses.
In 1876, in France, Jean-Baptiste Guillot discovers by chance in his nurseries of Lion an unusual rose, of rare beauty, born from an unwanted hybridization. He realizes that he is facing something important and dedicates it to his Country. A plant with globose flower with raised centre and an olderly shrub, very different from the usual Hybrid Perpetuals, that is remontant, of that time.
It seems that it was born from the crossing between one of these, it is thought 'Madame Victor Verdier', and a Tea, maybe 'Madame Bravy' or 'Madame Falcot'.
It maintains the character of the remontancy to which adds the elegance of the corolla and the erect posture of the branches, with coriaceous leaves, medium green and glossy, for a not too prickly shrub 120-150 cm tall on a 90 cm base.
The flower, usually on one stem only, reaches the 9 cm of diametre, with even 60 petals, well arranged, of an enchanting silvery pink colour. The fragrance, sweet and intense, evokes that of the rose of Damask rose.
Still valid variety for the garden and as cut flower. Its Achilles heel is the cold. By the end of season it loses all leaves, needs a moderate pruning and then… it is worthy to wait.

→ History of the rose : from the Wild Roses towards a perfect rose.
→ To appreciate the biodiversity of roses, please click here.