Family : Rosaceae
Class : Modern Shrub Rose

Text and pictures © Giuseppe Mazza

English translation by Mario Beltramini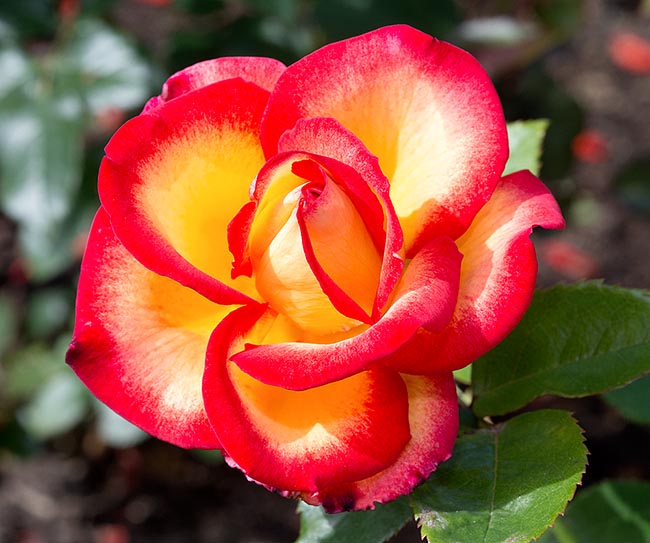 Modern shrub rose created in France in 2006 by Michel Adam and dedicated to Léo Albert Charles Antoine Ferré, singer and songwriter, poet and writer, born in 1916 in the Principality of Monaco and passed away in 1993 in Castellino in Chianti, Italy.
It forms compact shrubs, 50-60 cm broad and 60-100 cm tall, with glossy green foliage and abundant blooming through the whole vegetative season.
The double flowers, even 14 cm broad, slightly flat, with 30-35 petals with yellow centre, more or less intense, that may fade to almost white, and a showy red margin. They have no scent, and even if they grow solitary on their stem, they may at times form small clusters, like the Floribunda roses.
Resistant to the diseases.
Variety denomination : ADAbiterse
Awards :
Audience prize in Orléans and gold medal at the Madrid Rose Trials

→ History of the rose : from the Wild Roses towards a perfect rose.
→ To appreciate the biodiversity of roses, please click here.