Family : Rosaceae
Class : Modern shrubby rose

Text and pictures © Giuseppe Mazza

English translation by Mario Beltramini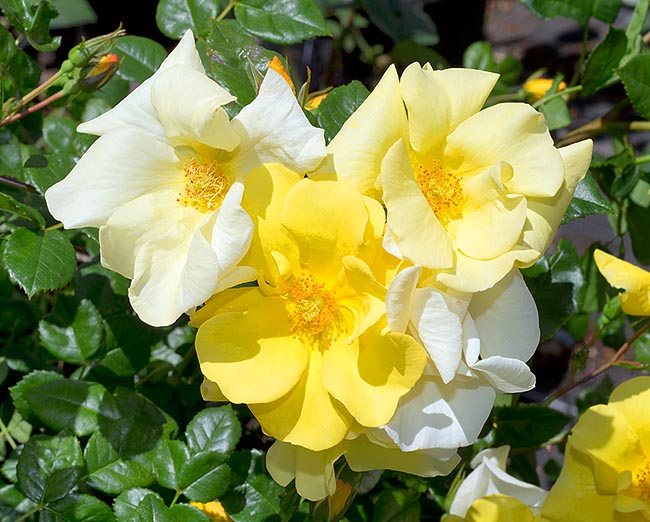 Known also as 'Limoncello' (a sweet liquor of the Amalfitan and Sorrentine coasts), 'Pretty Star', 'Thrive Lemon' and 'Yellow Meidiland', 'Liane Foly' is a shrubby exuberant variety, with bright dark green foliage, that may surpass the metre of height and extend even more on the sides, with arcuate branches invasive as lianas.
Flowers in profusion, very perfumed, cheek by jowl on the stem, with 4-8 petals arranged in cup per a flower of about 7 cm of diametre. When in bud they are of a nice bright yellow colour, then fade, ageing, with the rapid change of pH. In the centre they show an elegant crown of yellow-saffron stamens.
Exceptional resistance to all roses diseases and a gay spot of colour for shaping the landscapes in garden.
Variety denomination : MEIjecycka
Parentage :
Seed : 'The Fairy' × 'Seedling'
Pollen : 'Golden Holstein' × 'Dorola'
Awards :
2009 - Bagatelle Rose Trials 1er Prix
2010 - Kortrijk / Courtrai Gold Medal

→ History of the rose : from the Wild Roses towards a perfect rose.
→ To appreciate the biodiversity of roses, please click here.