Family : Rosaceae
Class : Old Rose - Bourbon

Text and pictures © Giuseppe Mazza

English translation by Mario Beltramini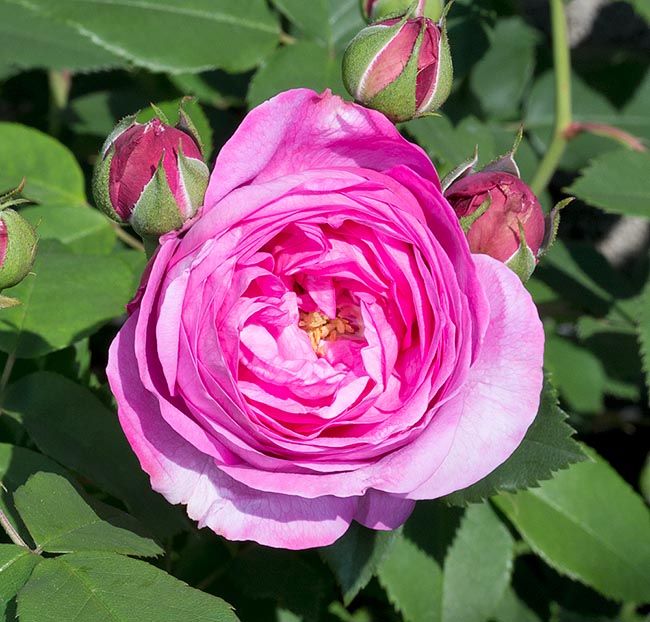 'Louise Odier', created in France in 1851 by Jacques-Julien Margottin and known also as 'Madame Louise Odier' and as 'Madame de Stella', stands by sure among the most famous Bourbon roses, remontant varieties casually born in the island of Bourbon, nowadays known as Réunion, from the crossing of a Rosa chinensis, we talk of the 'Old Blush' variety, with an autumnal Damascena, seemingly the Rosa x damascena 'Quatre Saisons'.
Vigourous and compact shrub, with clear leaves that at once evoke the Rosa chinensis, reaches the 3 m of height on a 120 cm base and can be cultivated also as small climber for hiding unaesthetic stone walls or old structures.
It tolerates the shade, even if it gives its best in full sun, with over double flowers, cup-shaped, pink with pale lilac shades arranged in clusters, they reach the 7,5 cm of diametre, have an intense scent and are suitable for enriching the house as romantic cut flowers.
Good remontancy and excellent resistance to cold
Parentage :
Seedling of 'Émile Courtier'

→ History of the rose : from the Wild Roses towards a perfect rose.