Family : Rosaceae
Class : Hybrid Tea

Text and pictures © Giuseppe Mazza

English translation by Mario Beltramini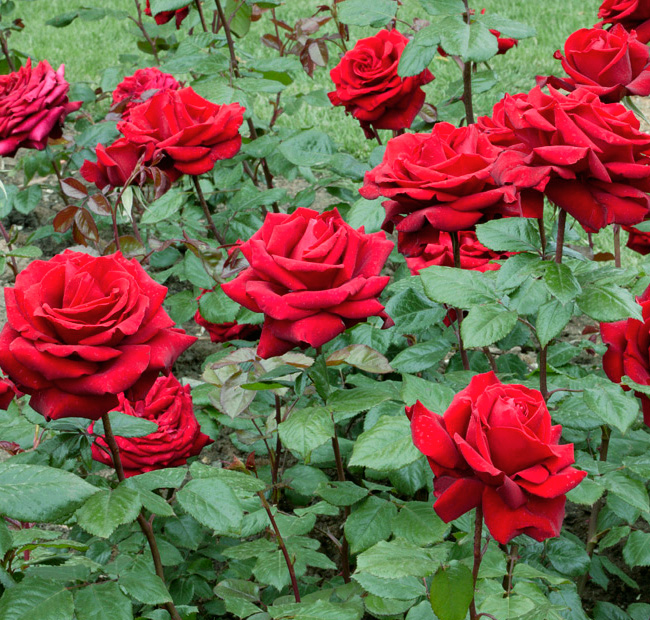 'Marlena', whose variety denomination is KORtocrea, is a Hybrid Tea with an unusual story.
It was created in Germany in 1999 under the name of 'Red Queen Freelander' by Kordes for the cut flower industry. It gained high success in the greenhouses but went out of fashion and is no longer cultivated in Germany.
A former representative for Kordes in France, Edirose, then came to the idea of proposing it for the warm Mediterranean gardens and so this variety went again into trade under the name of 'Marlena'. A commercial trick which caused a bit of a confusion because there already existed a Floribunda with the same name created by Kordes in 1964 with variety denomination of KORto.
However, when cultivated in the garden, this shrub can reach 1 m in height with dark-green, shiny leaves. The flowers, 11-12 cm in diameter, isolated on their own stems as usually occurs in flower shop's roses, have 35-40 splendid red, velvety petals, with almost no fragrance.
A beautiful plant that obviously, as can be presupposed, is an optimal cut flower when wanting to decorate the house.
Variety denomination : KORtocrea

→ History of the rose : from the Wild Roses towards a perfect rose.
→ To appreciate the biodiversity of roses, please click here.