Family : Rosaceae
Class : Hybrid Tea

Text and pictures © Giuseppe Mazza

English translation by Mario Beltramini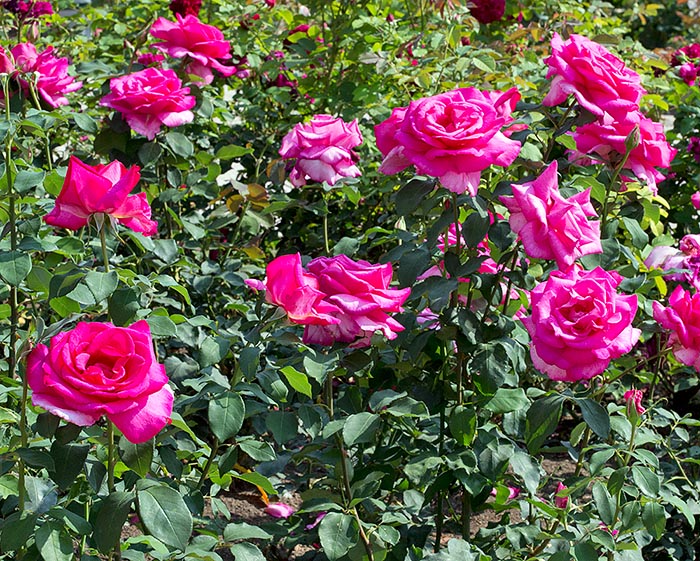 Created in Germany by Kordes in 1991 and marketed since 2001, 'Parole' is a successful variety, known also as 'XXL', 'Garden Queen', 'Buxom Beauty', 'Wayside Gardens' and 'Wanda Ferragamo'.
Vigourous shrub, 80-100 cm tall, with bright dark green foliage, good resistant to diseases.
Huge flowers, surpassing the 15 cm of diametre, with even 50 dark pink-magenta petals and lilac hues. They usually grow isolated, as suits a great Hybrid Tea, and have an intense fragrance which reaches its peak in the warmest moments of the day with notes of honey after the fruits ones.
In bloom with more cycles during the whole vegetative season.
Variety denomination : KORbilant
Parentage :
Seedling x 'Lady Like'
Awards :
2001 - Madrid Fragrance Award
2002 - Nantes Fragrance Award
2004 - The Hague Fragrance Award
2008 - Gifu : Best Hybrid Tea - Gifu Bronze Medal
2010 - Desert Rose Society Annual Fall Show : Standard Judges Arrangement

→ History of the rose : from the Wild Roses towards a perfect rose.
→ To appreciate the biodiversity of roses, please click here.