Family : Rosaceae
Class : Hybrid Tea

Text and pictures © Giuseppe Mazza

English translation by Mario Beltramini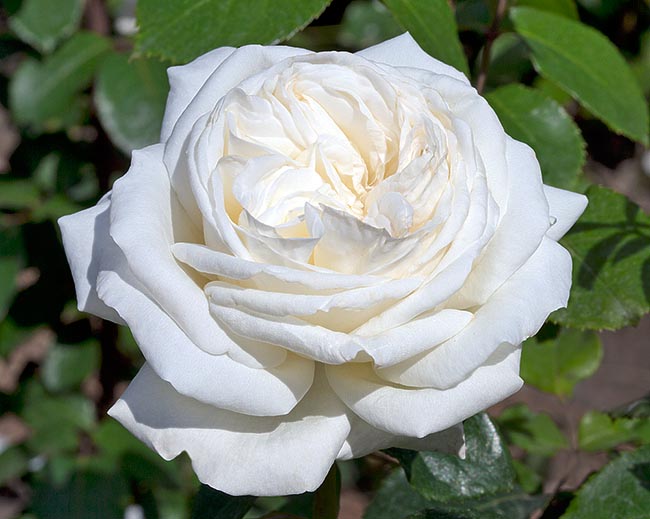 Created by Alain Meilland in 2009 and marketed in 2010, 'Pierre Arditi' is a Hybrid Tea known also as 'Lomonosov', 'Roger Whittaker' and 'Vive La Mariée!'.
Vigourous 90-100 cm shrub, with bright dark green foliage and good resistance to frost and diseases.
The great cup-shaped flowers, pure white, mainly solitary, can reach the 14 cm of diametre with about 95 petals. They have the intense fragrance of the old Damask Rose, with notes of complex fruits, that evoke the raspberry, the pears, the peaches and various exotic fruits.
It is in bud with more cycle during the whole vegetative period.
Variety denomination : MEIcalanq
Parentage :
Seed : 'Typhoon' × 'Yves Piaget'
Pollen : 'Princesse de Monaco'
Awards :
2010 - International Prize of City of Nantes
2015 - 5th Prize : Baden Baden Wien Rose Trials

→ History of the rose : from the Wild Roses towards a perfect rose.
→ To appreciate the biodiversity of roses, please click here.