Family : Rosaceae
Class : Modern shrubby rose

Text and pictures © Giuseppe Mazza

English translation by Mario Beltramini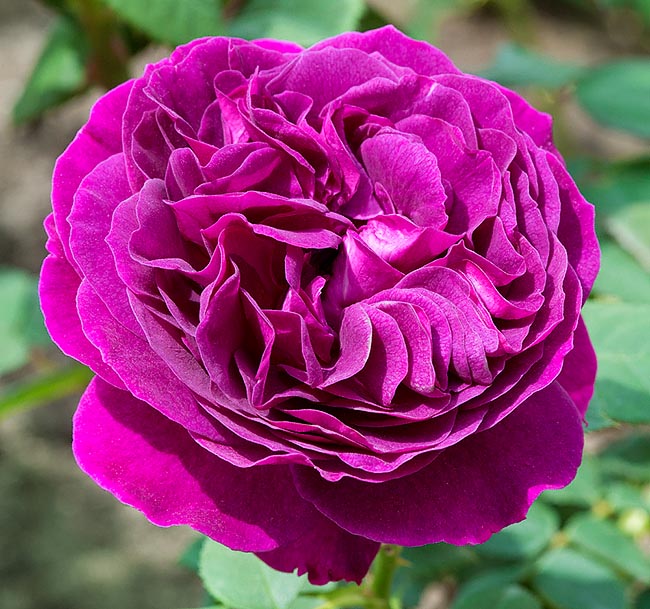 This unusual landscape shrub rose is born in France by Pierre Oreard's hand before 2007, then diffused in Germany by Lacon in 2010 with the name of 'Palais Biron' and the following year in France by Orard as 'Purple Lodge'.
Orard is a famous hybridizer famous for his purple roses, and 'Purple Lodge' does not transgress the rule, but within the landscape roses, done to be seen from far away, this is a variety worthy to be observed closely.
The small 7 cm flowers, united in clusters like the Floribundas, are in fact quartered, with 75-80 petals pressed together in quarters, and also much perfumed with notes of citrus fruits and of raspberry. They evoke the look of the old roses with exceptional remontancy until late autumn.
The shrub, 80-90 cm tall and 50-70 cm broad, is very vigourous with semi-persistent leaves that tolerate even relatively shady positions.
Variety denomination : ORA2437
Awards :
2008 - Monza Fragrance Award - Barcelona - Best Landscape Rose
2009 - Saverne Fragrance Award - Madrid Fragrance Award - Baden-Baden Fragrance Prize
2014 - Monaco Perfume Cup - Monaco Mayor of Monaco Prize

→ History of the rose : from the Wild Roses towards a perfect rose.
→ To appreciate the biodiversity of roses, please click here.