Family : Rosaceae
Class : Old Rose - Bourbon

Text and pictures © Giuseppe Mazza

English translation by Mario Beltramini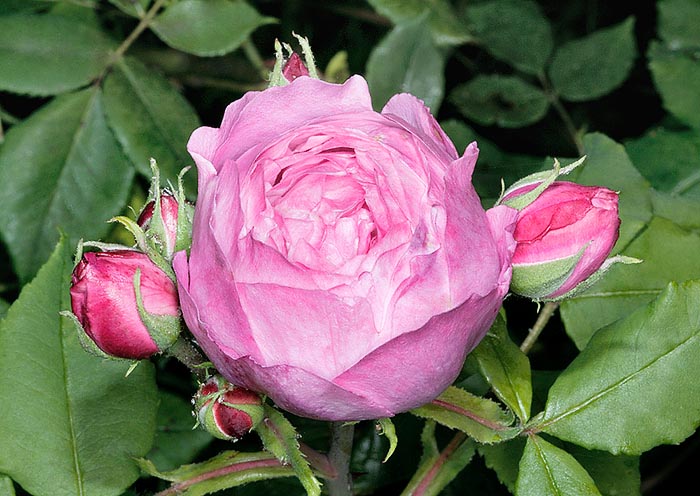 The rose 'Reine Victoria', created in France by Joseph Schwartz in 1872, is part of the group of the Borubon roses, born casually in the island of Bourbon, nowadays Réunion, from the crossing of a Rosa chinensis, they talk of the variety 'Old Blush', with an autumnal Damascena, it seems the Rosa x damascena 'Quatre Saisons'.
Introduced in France in 1823 by Henri Antoine Jacques, they were immediately used by various hybridizers due to their scent and their remontancy.
'Reine Victoria', known also as 'La Reine Victoria' and 'The Shell Rose', forms an erect tuft, well ramified, that may exceed the height of 2 m.
The flowers, perfumed, cuont about 40 petals arranged in cup, intense pink when in bud that then fade while growing with delicate romantic shades. They are about 7 cm broad, mostly isolated, but also in small clusters of 3-7 elements.
The remontancy, after the first May blooming, is not guaranteed: it depends on the climate and may be modest.
It is a plant loving the sun and the dry warmth, subject, in case of humidity, to powdery mildew attacks and black spots that must be prevented with suitable treatments.
Refined ornament for the house as cut flower.

→ History of the rose : from the Wild Roses towards a perfect rose.
→ To appreciate the biodiversity of roses, please click here.