Family : Rosaceae
Class : Old Rose - Damask Perpetual


Text and pictures © Giuseppe Mazza

English translation by Ignacio Barrionuevo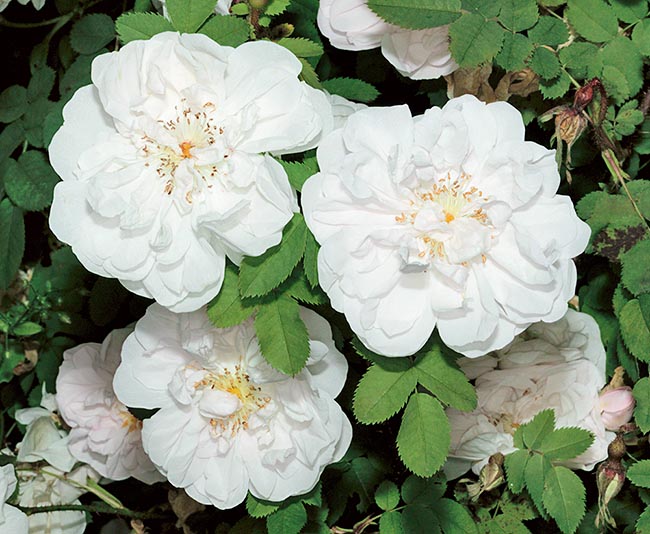 Commercialized by Lee in England en 1838, the rose 'Stanwell Perpetual', also known as Rosa spinosissima 'Stanwell Perpetual' or simply 'Stanwell', is one of the first remontant roses, which were known as Autumn Damask or Perpetual Hybrids.
It was randomly discovered at the village of Stanwell, in Essex, born from the casual pollination between 'Rosa damascene Semperflorens' and a Rosa pimpinellifolia spinosissima.
It is a tetraploid shrub with small flowers formed by numerous leaflets, very resistant to diseases, which can tolerate the warmth and half-shade, and might grow over 2 m high and 1.5 m in diameter.
The flowers, 7-8 cm in diameter, show around 45 white petals with pinkish tints and a scent that reminds of the lily-of-the-valley.
After the intense blooming in May-June this variety blooms again until the first winter frosts, although in a more discreet manner.

→ History of the rose : from the Wild Roses towards a perfect rose.
→ To appreciate the biodiversity of roses, please click here.