Family : Rosaceae
Class : Hybrid Tea

Text and pictures © Giuseppe Mazza

English translation by Mario Beltramini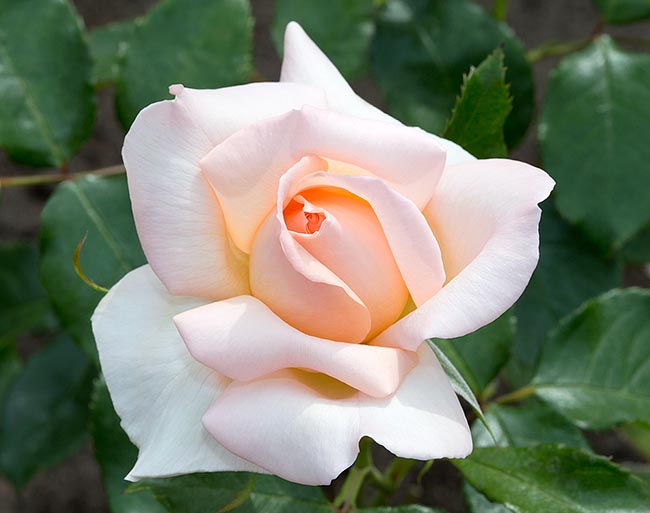 Created in England by Harkness and registered in 2005, 'Sweet Love' has also the name of 'Chandos Beauty'.
Even 1 m tall and 80 cm broad shrub, with dark green foliage.
Little more than 10 cm broad flowers, with 40-80 petals spirally arranged and usually isolated, as befits the classic Hybrid Tea. Of pearly colour, with pinkish shades at the centre, they have a strong sweet and spiced fragrance, with notes of cinnamon, cloves and raspberry.
In bloom with more cycles in the garden, 'Sweet Love' is also an excellent cut flower.
Variety denomination : HARmisty
Awards :
2007 - Gold Standard Rose Trials: Gold Standard - Glasgow Tollcross Fragrance Award - Glasgow Certificate of Merit
2008 - Alterarosa - Prix du Public
1011 - Baden-Baden Gold Medal - Baden-Baden Fragrance Prize

→ History of the rose : from the Wild Roses towards a perfect rose.
→ To appreciate the biodiversity of roses, please click here.