Family : Rosaceae
Class : Modern shrubby rose

Text and pictures © Giuseppe Mazza

English translation by Ignacio Barrionuevo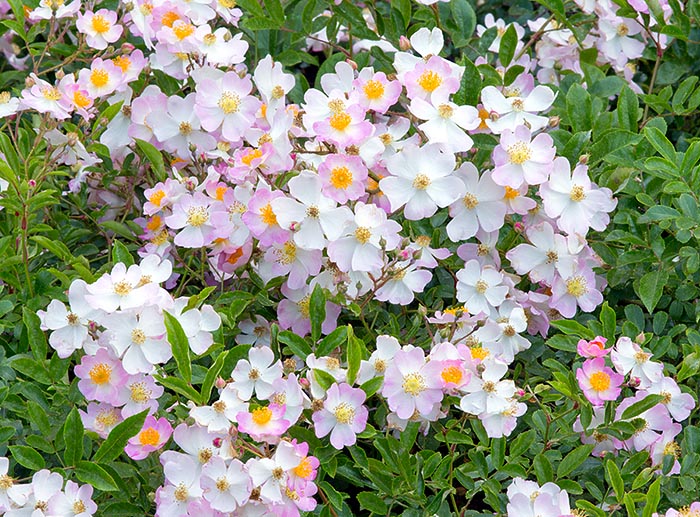 Created in Belgium by Louis Lens in 1982, 'Tapis volant' is a hanging, groundcovering Landscape, shrub rose.
Although only 40-70 cm high, covers densely the ground over more than 160 cm in diameter. In the terraced gardens can be used with the same effect of a creeper, perhaps as a help to hide a retaining wall letting it extend over the ground then to form, as its name suggests, a remarkable "flying carpet" blooming during the whole vegetative season.
Healthy and thorny shrub, with a medium green, shiny foliage, which doesn't need great caring.
Shows many clusters of single blooms with 5 cup-organized petals, which can even be 4 cm in diameter. They give off an intense fruity scent, turning over time from pastel pink to white elegantly contrasting with the yellow-golden prominent stamens.
Variety denomination : LENplat
Parentage :
Seed : 'Rosa luciae' × Seedling
Pollen : Rosa multiflora × 'Ballerina'
Awards :
1987 - Kortrijk / Courtrai Gold Medal

→ History of the rose : from the Wild Roses towards a perfect rose.
→ To appreciate the biodiversity of roses, please click here.