Family : Rosaceae
Class : Rambler

Text and pictures © Giuseppe Mazza

English translation by Ignacio Barrionuevo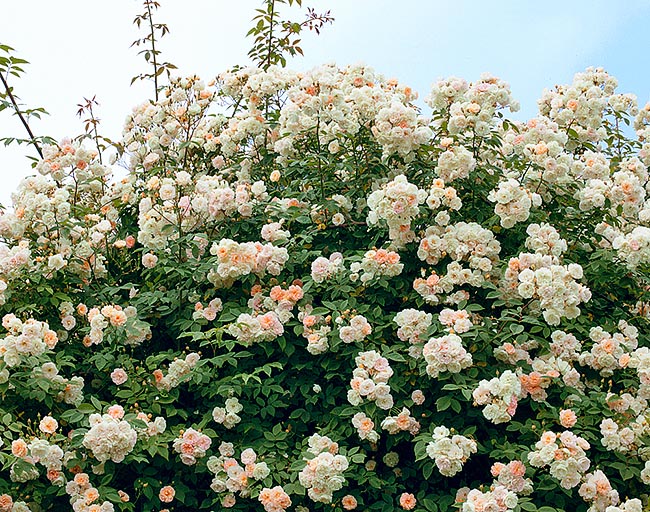 The rose 'Treasure Trove' is not a common creeper, but, as English say, a Rambler, particularly vigorous varieties with branches full of hooked thorns, that can grow over 10 m high as is the case of this variety, sometimes even 12 m.
It was born in England in 1977 at the Treasure nurseries from the crossbreeding between 'Kliftsgate', a variety derived from Rosa filipes, and 'Buff Beauty', a hybrid of Rosa moschata.
The intensely scented flowers, together in clusters, can measure 5 cm in diameter and show around 23 pink-apricot-coloured petals when recently open that fade into creamy white tints when they grow older.
It is very useful for hiding old walls and can give a new life to the remaining of a dead old tree, covering it with branches and flowers. And, even more, nothing prevents us from transforming it into a bush, as shown in the photo.
This variety resists well the cold, the half shade and diseases, but unfortunately is not remontant.
It makes a spectacular decoration in spring, for approximately a month, and then colourful fruits arise in autumn, cheering the plant during winter as well.
It is obvious that, given its size, this plant needs a fertile ground and adequate watering.

→ History of the rose : from the Wild Roses towards a perfect rose.
→ To appreciate the biodiversity of roses, please click here.