Family : Rosaceae
Class : Modern shrubby rose

Text and pictures © Giuseppe Mazza

English translation by Ignacio Barrionuevo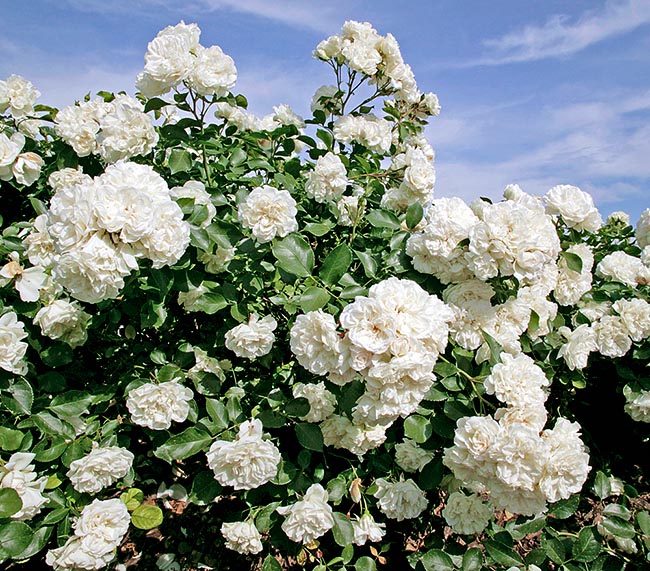 Created in France by Meilland in 1987, 'White Meidiland' is a modern landscape shrub rose, also known as 'Blanc Meillandécor', 'Super Swany' and 'White Meilland'.
It tolerates a small amount of shade and the cold but, to make the best of it, with copious blooming and an exceptional resistance to diseases, needs a lot of sunlight.
The leaves are dark green in colour and shiny, covering a shrub that can measure 90-140 cm high and 120-215 cm in diameter.
As a relative of a Floribunda, this rose generates well-stocked clusters, with 8 cm wide corollae showing 60-70 white petals with light pink tinctures.
They are not scented, but if trimmed right after the first blooming can bloom again, in several cycles, during the whole vegetative season.
It is an optimal ground cover rose, and can well be used in borders, hedges and spectacular flower cascades in the rocky gardens.
Variety denomination : MEIcoublan
Parentage :
'Temple Bells' × 'Coppélia '76'

→ History of the rose : from the Wild Roses towards a perfect rose.
→ To appreciate the biodiversity of roses, please click here.