Family : Rosaceae
Class : Floribunda

Text and pictures © Giuseppe Mazza

English translation by Ignacio Barrionuevo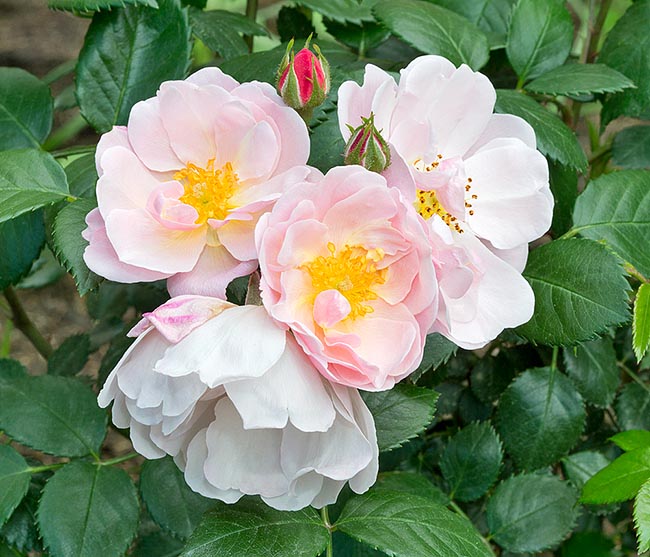 'Utopia', whose variety denomination is DELsimros, is a Floribunda dedicated in 2012 by Delbard to the Royal Saltworks of Arc-et-Senans, an imposing architectural structure, an utopia dating of the age of the Enlightenment which tried to balance both the housing needs of the workers and the rationalization of the salt production: a place that should have ideally transformed into the heart of a model city, never accomplished because of the French Revolution.
It is a landscape rose that should not be with the Hybrid Tea rose of the same name 'Utopia', created in Canada by Brad Jalbert in 2009 and registered as JALtopia.
This is a perfect occasion to highlight the importance of the unpronounceable and unique names created as variety denomination for the roses, in our case DELsimros and JALtopia that begin, as usual, with the three first letters of the producer in capital letters.
'Utopia' is, anyway, a splendid variety, 90 cm tall, with flowers counting 6 cm in diameter and around 15 petals coloured in diverse pink shades which change in time, because of the pH, margin-wards, to a cream white colour. Flowers joined in dense clusters of 10-15 corollae which cover the plant repeatedly during the whole vegetative period.
Dark green, shiny leaves that show an optimal resistance to diseases.
Variety denomination : DELsimros
Awards :
2012 - Baden-Baden Silver Medal - Baden-Baden City of Zweibrücken Prize
2014 - Bagatelle Certificat de Mérite

→ History of the rose : from the Wild Roses towards a perfect rose.
→ To appreciate the biodiversity of roses, please click here.